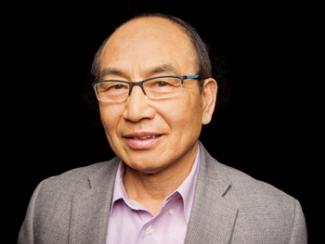 Dr. Guang Yue is the director of Center for Mobility and Rehabilitation Engineering Research at Kessler Foundation. He is also a professor at Rutgers New Jersey Medical School and affiliated faculty in the Department of Biomedical Engineering at New Jersey Institute of Technology.
Dr. Yue received his PhD in motor control/sensorimotor neuroscience from the University of Iowa and had his postdoctoral training in neurophysiology at University of Arizona. Before joining Kessler Foundation in 2012, he was the Director of Neural Control Laboratory and Director of Rehabilitation Research at Cleveland Clinic Learner Research Institute for 18 years. He has published extensively in the fields of sensorimotor neuroscience, neurorehabilitation, neuroimaging, neuromuscular physiology and biomechanics. Dr. Yue's research programs have continuously been supported by federal funding agencies such as NIH, NIDILRR, DoD and VA as well as the state of New Jersey (NJ Commission on Brain Injury Research) in the last 25 years.
Expertise
Biomechanics
Electrophysiology
Motor Function Rehabilitation
Neuroimaging
Neuromuscular Physiology
Rehabilitation Engineering
Publications
Kisiel-Sajewicz K, Fang Y, Daly JJ, Siemionow V, Jaskólska A, Jaskólski A, Sun CK, Sahgal V, Yue GH (2011). Weakening of synergist muscle coupling during reaching movement in patients post stroke. Neural Repabilitation and Neural Repair, 25: 359-368.
Jiang Z, Wang XF, Kisiel-Sajewicz K, Yan JH, Yue GH (2011). Cortico-cortical functional connectivity is strengthened during muscle fatigue. NeuroImage, 60: 728-737.
Plow EB, Gohar D, Bayram M, Wyant A, Varnerin N, Mamone B, Siemionow V, Machado A, Hou J, Yue GH (2013). Neurophysiologic correlates of aging-related muscle weakness. Journal of Neurophysiology, 110: 2563-2573.
Bayram M, Siemionow V, Yue GH (2015). Weakening of corticomuscular signal coupling during voluntary motor action in aging. J Gerontol A Biol Sci Med Sci glv014 70(8):1037-43.
Rajagopalan V, Das A, Zhang L, Hillary F, Wylie GR, Yue GH. (2018) Fractal Dimension Brain Morphometry: a novel approach to quantify white matter in traumatic brain injury. Brain Imaging and Behavior. doi: 10.1007/s11682-018-9892-2. PubMed PMID: 29909586.