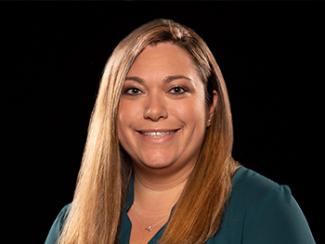 Research Scientist
Laboratory
Assessment and Rehabilitation of Everyday Cognition Laboratory
Erica Weber, PhD is a Research Scientist in the Center for Traumatic Brain Injury Research. She has been PI of a NRSA F31 Fellowship which examined the novel application of an encoding paradigm to improve prospective memory in HIV-infected methamphetamine users, and was funded by NIDILRR (Switzer Research Fellowship) to apply these techniques in TBI. Additionally, she is also currently PI of two pilot studies funded by the New Jersey Commissions on Brain Injury and Spinal Cord Research, which both seek to improve diagnosis and treatment of cognitive impairment in traumatic injuries of the nervous system. She has published 42 peer-reviewed papers, 6 book chapters, and over 60 conference posters and oral presentations.
Expertise
Rehabilitation
Prospective Memory
Neurocognition
Traumatic Brain Injury
Cognitive Impairment
Education
PhD - Clinical Psychology, San Diego State University / University of California, San Diego
MS - Clinical Psychology, San Diego State University / University of California, San Diego
BS - Boston University
Honors
Rutgers-New Jersey Medical School Mitchell Rosenthal PhD Postdoctoral Fellow Research Award, 2017
National Psychologist Trainee Register Credentialing Scholarship, 2017
Kessler Foundation Fellow Inspiration Award, 2017
PhD Postdoctoral Fellow Research Award, 2017
Benton-Meier Scholarship, American Psychological Foundation, 2013
National Academy of Neuropsychology Student Poster Award, 2013
NIDA Director's Travel Award for the College on Problems of Drug Dependence, 2013
NIDA Travel Awardee for the Conference on HIV in the Nervous System and the International Symposium on Neurovirology, 2012
Outstanding Student Poster Award Focused on Assessment and WPS Emerging Leaders in Assessment Award, 2010
Blue Ribbon Award, American Psychological Association (Division 40), 2008
Summa Cum Laude, Boston University, College of Arts & Sciences Honors Program, 2005
Research Interests
What's your current research focus or area you are most excited about?
My primary focus is on using principles from cognitive theories to rehabilitate prospective memory, or remembering to perform intended tasks at a specific time in the future, in neurological conditions. Deficits in prospective memory can severely impact an individual's ability to function independently, which is of prime importance to those with disabilities. My work tests the efficacy of strategies that can enhance encoding of the prospective memory cue (i.e., what you are looking for in the environment to trigger your response) and can increase monitoring of the environment and time to promote better detection of that cue. Ultimately, we are hoping that we can find ways to translate these laboratory-based techniques to the real world.
What prompted/motivated you to choose that area?
Prior to graduate school, when I working as a psychometrist at a research center focused on neurocognitive consequences of HIV infection, I was often asked by research participants "what can I do to fix these types of memory problems?' It struck me that many clinical neuropsychologists at the time were not interested in cognitive rehabilitation, and it would benefit our patient populations if we could cross-train scientists on understanding the mechanisms of specific cognitive deficits as well as how to fix them. Prospective memory deficits are easy to relate to, whether you're speaking with patients or scientists/clinicians. We can all relate to forgetting to mail out that birthday card sitting on your table or forgetting to return an email. I've enjoyed this line of work because not only is it intellectually fascinating, but I can feel like I am making a tangible difference to the rehabilitation community.
Briefly, what path did you take to get there? Or what is your career trajectory- long-term goal?
I was hooked after my first experience with neuropsychology back in undergrad at Boston University. I asked my professor (Dr. Alice Cronin-Golomb) if she had any available space in her laboratory for an undergrad intern, and before I knew it, I was working on projects involving visuospatial deficits in HIV infection. Knowing I would be most competitive for graduate school with a few years of research under my belt, I accepted a research assistant position in San Diego, swayed by their strong neuropsychological tradition (and perhaps the promise of sunny skies and temperate weather). After 4 years, I entered the Joint Doctoral Program in Clinical Psychology at SDSU/UCSD, with my primary research focus studying prospective memory deficits in HIV infection at the UCSD HIV Neurobehavioral Research Program. Seeking more experience in rehabilitation and brain injury, I completed my internship at the Minneapolis VA. Most recently, I have been completing my postdoctoral fellowship at Kessler Foundation, which has been an ideal match for my interest in cognitive rehabilitation.
Advice for young scientists. Words of wisdom.
I have been fortunate to have fantastic mentors throughout every stage of my training. Sometimes, these mentors are in a formal capacity, like your graduate school program director or your lab's PI. Other times, they're the more advanced graduate student or a junior scientist while you're a post-doc. Turn to these people for advice – early and often! Chances are, you are not the first person to deal with whatever challenge you may be facing, and it is incredibly helpful (and often quite validating) to get feedback or a second opinion. Find people who you trust and admire, who have gotten to the position you aspire to, and keep in contact. Not only does it help expand your professional network, but you'll have greater exposure to ideas and paths you may not have thought of.