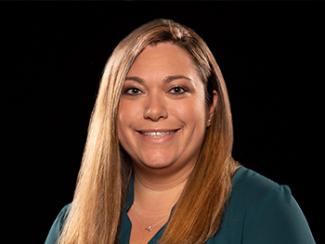 Research Scientist
Laboratory
Assessment and Rehabilitation of Everyday Cognition Laboratory
Erica Weber, PhD, is a Research Scientist in the Center for Traumatic Brain Injury Research at Kessler Foundation. Much of her research studies include cognitive deficits, applied neuroimaging to evaluate cognitive rehabilitation and prospective memory, defined as the ability to remember to carry out intended actions in the future. Dr. Weber works with individuals who have sustained spinal cord injury (SCI), traumatic brain injury (TBI) and multiple sclerosis (MS). She has been Primary Investigator (PI) of a Ruth L. Kirschstein National Research Service Award (NRSA)  F31 Fellowship, which examined the novel application of an encoding paradigm to improve prospective memory in HIV-infected methamphetamine users. It was funded by the National Institute on Disability, Independent Living, and Rehabilitation Research (NIDILRR) (Switzer Research Fellowship) to apply these techniques in traumatic brain injury (TBI). Additionally, she is also currently PI of two pilot studies funded by the New Jersey Commissions on Brain Injury and Spinal Cord Research, Research. Both studies seek to improve diagnosis and treatment of cognitive impairment in traumatic injuries of the nervous system. Dr. Weber has published 40 peer-reviewed papers, six book chapters, and more than 60 conference posters and oral presentations.
Expertise
Rehabilitation
Prospective Memory
Neurocognition
Traumatic Brain Injury
Cognitive Impairment
Education
PhD - Clinical Psychology, San Diego State University / University of California, San Diego
MS - Clinical Psychology, San Diego State University / University of California, San Diego
BS - Boston University
Honors
Rutgers-New Jersey Medical School Mitchell Rosenthal PhD Postdoctoral Fellow Research Award, 2017
National Psychologist Trainee Register Credentialing Scholarship, 2017
Kessler Foundation Fellow Inspiration Award, 2017
PhD Postdoctoral Fellow Research Award, 2017
Benton-Meier Scholarship, American Psychological Foundation, 2013
National Academy of Neuropsychology Student Poster Award, 2013
National Institute on Drug Abuse (NIDA), Director's Travel Award for the College on Problems of Drug Dependence, 2013
National Institute on Drug Abuse (NIDA), Travel Awardee for the Conference on HIV in the Nervous System and the International Symposium on Neurovirology, 2012
Outstanding Student Poster Award Focused on Assessment and WPS Emerging Leaders in Assessment Award, 2010
Blue Ribbon Award, American Psychological Association (Division 40), 2008
Summa Cum Laude, Boston University, College of Arts & Sciences Honors Program, 2005
Research Interests
Dr. Weber's primary focus is on using principles from cognitive theories to rehabilitate prospective memory in neurological conditions, such as remembering to perform intended tasks at a specific time in the future. Her work tests the efficacy of strategies that can enhance encoding of the prospective memory cue (i.e., what you are looking for in the environment to trigger your response) and can increase monitoring of the environment and time to promote better detection of that cue.