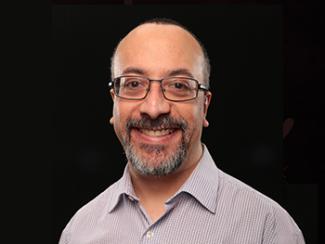 Senior Research Scientist
Anthony H. Lequerica, PhD, is a Senior Research Scientist in the Center for Traumatic Brain Injury Research at Kessler Foundation. He is a research associate professor in the Department of Physical Medicine and Rehabilitation at Rutgers New Jersey Medical School and holds a clinical appointment as a staff neuropsychologist in the Cognitive Rehabilitation Program at Kessler Institute for Rehabilitation.
Dr. Lequerica has extensive postgraduate training in quantitative methods with a strong interest in measurement and psychometrics. He is the author of numerous peer-reviewed publications and presents and lectures at conferences at the local, national, and international level. Dr. Lequerica is a member of the American Psychological Association (Divisions 22, 40, and 45), the American Congress of Rehabilitation Medicine, the Hispanic Neuropsychological Society, and co-chair of the Inclusion, Diversity, Equity, and Accessibility Special Interest Group of the Traumatic Brain Injury Model System.
Expertise
Measurement
Psychometrics
Traumatic Brain Injury
Neuropsychology
Neuroscience
Education
PhD - Wayne State University
MA - Wayne State University
BS - State University of New York at Stony Brook
HS - North Babylon Senior High School
Honors
Dr. Joshua B. Cantor Scholar Award, 2018
Promotion to Senior Research Scientist, 2016
Kessler Foundation Spot Bonus Award, 2010, 2012, 2014, and 2016
Gary Davidoff Award for Postdoctoral Excellence in Research, 2006
Award for clinical service from the UMHHC Employee Recognition Program, 2005
Graduate/Professional Scholarship, 2002-2003
Rehabilitation Institute of Michigan All-Star Award, 2002
Graduate/Professional Scholarship, 2001-2002
Graduate/Professional Scholarship, 2000-2001
Graduate Teaching Assistantship, 1998-2000
Recipient of Certificate of Recognition of Exceptional Service, 1999
Thomas C. Rumble Fellowship,1997-1998
Research Interests
Dr. Lequerica's current research interests are sleep/wake disorders after acquired brain injury and issues of cultural diversity that impact rehabilitation outcomes with a strong motivation to improve neuropsychological testing and cognitive rehabilitation interventions for Spanish-speakers and other underserved populations.
Publications
View a comprehensive listing of publications for Dr. Lequerica on Research Gate.