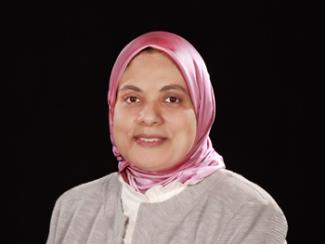 Heba Elsayed, MD, is a postdoctoral research fellow in the Center for Autism Research at Kessler Foundation. She is a phoniatrician (the medical specialty dealing with the study and treatment of voice, speech, language, hearing, and swallowing disorders) with expertise in studying the social and communication deficits in individuals with autism.
 
Expertise
Autism
Social cognition
Video coding
Education
MBBch - Medicine, Alexandria University, Egypt
MSc - Phoniatrics, Alexandria University, Egypt
MD - Phoniatrics, Alexandria University, Egypt
Research Interests
Dr. Elsayed's research interests are related to assessing social communication in individuals with autism across two most commonly used methods of communication in workplace-specific media: voicemail and email. This research will enable us to identify deficits in social communication such as reduced politeness use, differences in nonverbal behaviors (assessed in voicemails) and grammatical errors (assessed in emails). These studies will aid in designing interventions that target communication deficits within workplace environments, which will subsequently provide better employment outcomes for individuals with autism.