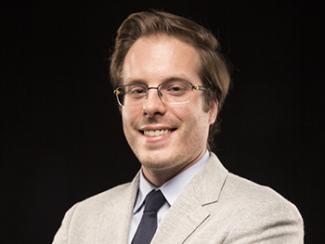 Research Scientist
Laboratory
Regenerative Rehabilitation Research Laboratory
Nathan Hogaboom received his BS in Kinesiology from Penn State University in 2010, specializing in exercise science. In 2011 he began working toward a PhD in Rehabilitation Science and Technology at the University of Pittsburgh. The topic of his dissertation was biomarkers of upper-extremity overuse in wheelchair users with SCI. Specifically, he measured ultrasound changes in shoulder tendons after different wheelchair activities. Dr. Hogaboom then paired these changes with biochemical markers of inflammation, measured using microdialysis. He has published in several prominent rehabilitation journals and co-authored a book chapter about overuse injuries and fractures in spinal cord injury. Dr. Hogaboom is currently working at the Kessler Foundation, applying his knowledge of shoulder pain and image analysis to evaluate the effects of regenerative rehabilitation treatments on soft-tissue health. 
Expertise
Image Analysis
Large Dataset Analysis
Orthopedics
Education
PhD - Rehabilitation Science and Technology, University of Pittsburgh
BS - Kinesiology, Pennsylvania State University
Research Interests
Nathan Hogaboom's research interests are centered around studying secondary complications of spinal cord injury, primarily upper limb pain. His current research focus is studying the effects of regenerative treatments, such as platelet-rich plasma or micro-fragmented adipose tissue, on shoulder pain. Dr. Hogaboom use imaging modalities to quantify soft-tissue changes in response to the treatment. He is also involved in studies that aim to elucidate the effects of regenerative treatments on meniscal tears and osteoarthritis of the knee in able-bodied individuals. Dr. Hogaboom's other interests include assistive technology, biomarkers of soft-tissue pathology, and neuropathic pain. Dr. Hogaboom will continue to pursue these areas in the near future.  
Publications
View a more comprehensive listing of publications for Dr. Hogaboom on Research Gate and PubMed.
Hogaboom NS, Worobey LA, Houlihan BV, Heinemann AW, Boninger ML. (2018) wheelchair breakdowns are associated with pain, pressure injuries, rehospitalization, and self-perceived health in full-time wheelchair users with spinal cord injury. Arch Phys Med Rehabil. pii: S0003-9993(18)30233-8. doi: 10.1016/j.apmr.2018.04.002. PubMed PMID: 29698640.
Worobey LA, Rigot SK, Hogaboom NS, Venus C, Boninger ML. (2018) investigating the efficacy of web-based transfer training on independent wheelchair transfers through randomized controlled trials. Arch Phys Med Rehabil. 9-16.e10. doi: 10.1016/j.apmr.2017.06.025. Epub PubMed PMID: 28782541.
Hiremath SV, Hogaboom NS, Roscher MR, Worobey LA, Oyster ML, Boninger ML. (2017) longitudinal prediction of quality-of-life scores and Locomotion in individuals With traumatic spinal cord injury. Arch Phys Med Rehabil.98(12):2385-2392. doi: 10.1016/j.apmr.2017.05.020. Epub PubMed PMID: 28647550.
Popchak AJ, Hogaboom NS, Vyas D, Abt JP, Delitto A, Irrgang JJ, Boninger ML. (2017) acute response of the Infraspinatus and Biceps Tendons to pitching in youth baseball. Med Sci Sports Exerc. 49(6):1168-1175. doi: 10.1249/MSS.0000000000001205. PubMed PMID: 28079648.
Hogaboom NS, Huang BL, Worobey LA, Koontz AM, Boninger ML. (2016) cross-sectional investigation of acute changes in ultrasonographic markers for biceps and supraspinatus tendon degeneration after repeated wheelchair transfers in people With spinal cord injury. Am J Phys Med Rehabil. 95(11):818-830. PubMed PMID: 27088477.