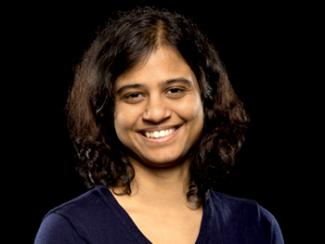 Research Scientist
Laboratory
Acquired Brain Injury Mobility Laboratory
Dr. Karunakaran is an associate research scientist in the Center for Mobility and Rehabilitation Engineering (CMRE) at Kessler Foundation, and in the Center for Wearable Robots at New Jersey Institute of Technology (NJIT) and Research Associate Professor at PM&R at Rutgers New Jersey Medical School. She is also affiliated with Children's Specialized Hospital. She received her PhD from the department of Biomedical Engineering at New Jersey Institute of Technology and graduate school of biomedical science Rutgers in 2016 and M.S in Electrical and Computer Engineering from NJIT in 2007. Her research focus is on designing, developing and evaluating assistive and rehabilitative technologies.
Expertise
Hardware and software design and development of assistive and rehabilitative devices
Design and development of virtual environments for rehabilitation
Evaluation of assistive and rehabilitative technologies
Education
PhD - Biomedical Engineering, New Jersey Institute of Technology & Rutgers - The state University
MS - Electrical Engineering, New Jersey Institute of Technology
Research Interests
Research interest includes designing, developing, and evaluating rehabilitation devices and techniques with a focuses on understanding the effectiveness of using Virtual Reality and Robotic exoskeletons as a rehabilitation intervention in children and adults with brain injury (CP, TBI, and stroke), using cortical, neuromechanical, and functional measures.
Publications
Karunakaran KK, Abbruzzese KM, Xu H, Foulds RA. (2017) the importance of haptics in generating exoskeleton gait trajectory using alternate motor inputs. IEEE Trans Neural Syst Rehabil Eng. 25(12):2328-2335. doi: 10.1109/TNSRE.2017.2726538. Epub PubMed PMID: 28715331.
Karunakaran K, Abbruzzese K, Xu H, Ehrenberg N, Foulds R. (2014) haptic proprioception in a virtual locomotor task. Conf Proc IEEE Eng Med Biol Soc. 2014;2014:3594-7. doi: 10.1109/EMBC.2014.6944400. PubMed PMID: 25570768.
Google Scholar: https://scholar.google.com/citations?user=BdZ01zsAAAAJ&hl=en