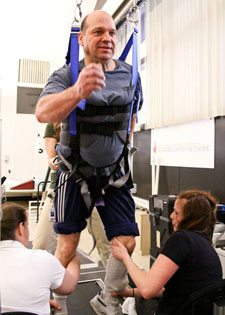 The mission of the Human Performance & Engineering Laboratory (HPEL) is to improve mobility, independence and quality of life for patients with sensory and motor deficits caused by neurological and musculoskeletal conditions. A major interest is the exploration of the plasticity of the central nervous system through neurophysiological, biomechanical, behavioral, and applied engineering research. Through greater understanding of the impact of factors that complicate recovery of function, including fatigue, immobilization, weakness, and aging, we are devising more effective strategies for rehabilitation.
One major area of investigation concentrates on improving standing/walking ability in individuals with functional deficits caused by stroke, spinal cord injury, and other neurological conditions. Our research emphasizes an understanding of biomechanical and physiological mechanisms underlying improvement in walking ability as a result of innovative rehabilitative interventions. In spinal cord injury, our interest extends to the effects of restored mobility on secondary complications including bladder and bowel dysfunction, depression, and risks for pressure ulcers, bone loss, cardiovascular disease, and muscle atrophy.
Another focus is the investigation of neural mechanisms contributing to the debilitating fatigue syndrome that is an obstacle to recovery for many individuals with multiple sclerosis, stroke, cardiovascular disorders and cancer. Our goal is to discover ways to effectively control or alleviate this fatigue, and enable people to regain productivity and improve their quality of life.
A further prominent area of research focuses on disabling musculoskeletal conditions that limit functional activity and mobility. For instance, we are developing state-of-the-art technologies to visualize and measure changes in arthritic joints, and based on the measured data, design treatment programs to slow the progression of arthritis or ameliorate its effects. HPEL also conducts research aimed at elucidating the neural and muscular mechanisms of loss of muscle strength. Knowing the mechanisms involved in muscle strengthening will help us to develop appropriate programs that enhance physical conditioning and improve outcomes for rehabilitation interventions.