Kessler Foundation Celebrates 25 Years of Changing Lives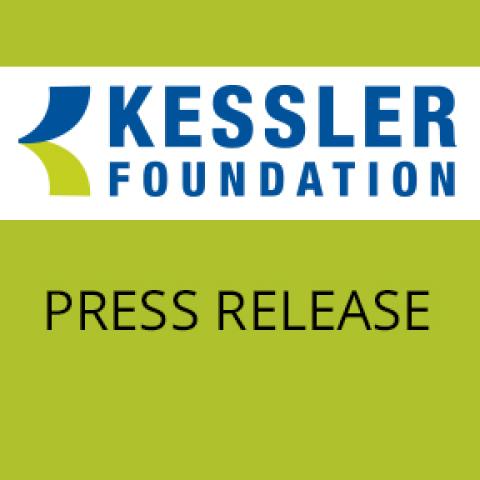 2012-01-05 15:04:35 FOR IMMEDIATE RELEASE
On May 12, Kessler Foundation celebrated its 25 year of changing the lives of people with disabilities through rehabilitation research and grant funding for programs that expand employment opportunities. As part of the anniversary, the Foundation hosted an awards dinner at Capitale in N.Y. honoring those who have advanced rehabilitation and showcasing innovations in research.  
"Kessler Foundation is proud to carry on the legacy of Dr. Kessler who believed in treating all mankind with dignity and respect. Our Research Center is helping people in wheelchairs to walk again. Individuals with traumatic brain injury, stroke and multiple sclerosis are regaining their ability to think, learn, remember and communicate," said Rodger DeRose, president and chief executive officer of Kessler Foundation. "Our Program Center is creating jobs throughout New Jersey, helping to decrease the eighty percent unemployment rate for people with disabilities.  And we are now expanding our successful grant-making strategies to programs across the nation."
Governor Tom Ridge of the U.S. Chamber of Commerce and Congressman Bill Pascrell, Jr. (D-NJ) served as the honorary co-chairs for the 25th anniversary celebration. Extra's New Yorkcorrespondent A.J. Calloway served as the Master of Ceremonies for the nearly 400 attendees, including actor, producer and disability advocate Daryl "Chill" Mitchell and Brook Lopez, center for the New Jersey Nets.
Rocco Ortenzio, Co-founder and Executive Chairman of Select Medical Corporation, received Kessler Foundation's inaugural Lifetime Achievement Award. His son and Chief Executive Officer of Select Medical Corporation, Robert Ortenzio, presented him with the award.
By creating a network of rehabilitation centers and hospitals around the country, Rocco helped make quality long-term care and medical rehabilitation accessible to people recovering from serious injuries and illnesses.
In 1998, Select Medical Corporation purchased Kessler Institute for Rehabilitation from the Foundation. Kessler Foundation collaborates with Kessler Institute to apply the latest innovations in research to clinical care. 
"I'm grateful for the unique partnership between Kessler Foundation and Kessler Institute for Rehabilitation," said Rocco. "Together they benefit so many lives that have been changed by devastating injury and illness. Thanks to their collective efforts, countless patients have inspired us with their remarkable recoveries."
Mark Pollard, long-time board member and former Chairman of Kessler Foundation, joined the select list of honorees who have received the Henry H. Kessler Human Dignity Award. The award was presented by his son, Stephen Pollard, who poignantly discussed how his father never allowed being in a wheelchair to be an obstacle to a full life of family, work, travel and sports.
After Mark was injured in a car accident, he underwent rehabilitation at Kessler Institute for Rehabilitation, where he learned to adapt to his life in a wheelchair. Mark is currently a Wealth Management Advisor for Merrill Lynch, Pierce, Fenner & Smith and has traveled to all seven continents since his injury.
Upon receiving the award, Mark said, "I've always tried to help other people. My style in the disability community has been to lead by example. Understand your position and then move forward. Every day, we each have the ability to help another person be all they can be. I encourage you all to keep supporting Kessler Foundation and try to help one person every day." 
Walter Frontera, M.D., Ph.D., former Dean of the Faculty of the University of Puerto Rico, was presented with the inaugural Kessler Foundation Joel A. DeLisa, M.D. Award for Excellence in Research and Education in the Field of Medicine & Rehabilitation (PM&R). James K. Estabrook, Esq., Chairman of the Board of Trustees for Kessler Foundation, presented the award and the accompanying check for $50,000.
Dr. Frontera launched departments of PM&R at the University of Puerto Rico in 1994 and Harvard University in 1996. He is also the editor-in-chief of the American Journal of PM&R and DeLisa's Physical Medicine and Rehabilitation, the leading textbook in the world in the field of PM&R. He is a board member of the International Society for PM&R, past-president of the International Federation of Sports Medicine, charter member of the Kottke Society, elected member of the Institute of Medicine of the National Academies and a fellow of the Association of Academic Physiatrists, the American Academy of PM&R and the American College of Sports Medicine. He has authored more than 200 publications. 
Kessler Foundation created this award to honor Dr. DeLisa's contributions to the field of PM&R and his role in developing Kessler Foundation Research Center. Upon retiring from Kessler Foundation in 2010, Dr. DeLisa has continued his role as professor and chair of the Department of PM&R at the University of Medicine and Dentistry of New Jersey (UMDNJ). The annual award recognizes leading PM&R physicians or researchers who mentor and inspire young professionals and conduct research that can be quickly translated into improved patient care and treatment.
"Joel DeLisa is one of the most distinguished members of our profession. His many contributions have touched the careers of many students, the lives of many colleagues and the health of many patients… Kessler [Foundation], as we know it in PM&R, is one of the leading programs in rehabilitation medicine in the country, with a national and international reputation second to none," said Dr. Frontera. "I could not be happier or more proud [to receive] this award."
Jerome and Dorie Kessler received the Special Recognition Award for their dedication to advancing rehabilitation and serving people with disabilities. Jerome is the son of Henry H. Kessler, M.D., Ph.D., who founded Kessler Institute for Rehabilitation in 1949. Jerome was a prosthetist who traveled the world making braces and artificial limbs for people in need. Jerome and his wife, Dorie, were involved with people with disabilities in other aspects of life, including teaching them how to dance and helping them live independently.
"Its been many years since I taught wheelchair dancing or took care of patients but Dorie and I remember vividly the individuals who shared the Kessler passion of a society where the disabled are treated as equals," said Jerome.
Richard and Robin Kessler, son and daughter of Jerome and Dorie, presented the award. Richard, a member of the Foundation's Board of Trustees and Co-Chair of the event, discussed how his parents were the heroes in his life, teaching him to accept others for who they are, regardless of disability, and help as many people as possible. Daphne Kessler, Richard's wife and a former Miss Kentucky, sang the national anthem as the New York Joint Services Color Guard presented the flags.
Air Force veteran Ian Brown, who was injured in the line of duty, spoke about his personal experience as a participant in research studies. "The gains I achieved not only helped me personally, but have contributed to the recovery of others with spinal cord injuries. The scientists at Kessler Foundation understand that there's more to rehabilitation than being able to walk. Quality of life – being able to enjoy sports, social activities and everyday life – is an important part recovery.
"It is incumbent upon us as a society to make sure the future is a better place…I was so fortunate to be the beneficiary of research that went on for years prior to my injury. I pay that forward by participate in spinal cord research … because I feel it's my responsibility to give back to all of those people who put in the effort prior to me. I think that, collaboratively, we can all provide a better future simply by giving of our time, resources and effort we have available."
About Kessler Foundation
Kessler Foundation's fundamental strategy is to link science and grantsmanship so that people with disabilities can lead more productive, independent and fulfilling lives. Kessler Foundation Research Center conducts research that improves quality of life for persons with injuries of the spinal cord and brain, stroke, multiple sclerosis and other chronic neurological and orthopedic conditions. Kessler Foundation Program Center has provided more than $20 million in funding to a variety of employment- related projects that are benefiting veterans, young adults, students and others with physical and cognitive disabilities. For more information, visit http://www.KesslerFoundation.org.
###
Kessler Foundation Contacts:
Lauren Scrivo
973.324.8384
LScrivo@KesslerFoundation.org 
Carolann Murphy
973.324.8382
CMurphy@KesslerFoundation.org