Kessler Foundation Ranks among 'Best Nonprofits to Work For' in the United States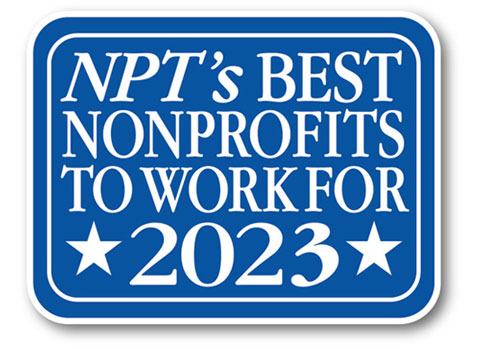 East Hanover, NJ – April 5, 2023 – Kessler Foundation, a major nonprofit organization in the field of disability, has placed among the Best Nonprofits to Work For, a yearly award recognizing the top 50 nonprofits across the U.S. The award was announced earlier this month by The NonProfit Times. The survey and awards program are designed to identify and honor the best employers in the nonprofit industry, benefiting the industry's economy, workforce, and businesses.
"We are extremely proud to be recognized for our efforts to create and maintain an exceptional workplace," said Rodger DeRose, president and chief executive officer of Kessler Foundation. "Throughout the organization, our employees share a strong belief in our mission to make a difference in the world for people with disabilities. Our employees give their best every day through exceptional work and collaborative efforts," DeRose asserted, adding, "In turn, the Foundation supports their endeavors and acknowledges their contributions, leading to a great workplace dynamic."
Kessler Foundation, a 501c3 non-profit public charity, is a premier medical research organization with two locations in New Jersey. The Foundation provides research findings, postdoctoral training, and educational programming to a broad audience of clinicians, researchers, administrators, policymakers, and consumers. In addition, the Foundation focuses its grantmaking on expanding employment opportunities for people with disabilities and addresses employment outcomes through its rehabilitation research. The Foundation has a full-time staff of 178 individuals.
Best Nonprofits to Work For Award
Nonprofits from across the U.S. entered the two-part survey process to determine the Best Nonprofits to Work For. The first part evaluated each nominated organization's workplace policies, practices, philosophy, systems, and demographics. The second part included an employee survey to measure their experience. This part of the process was worth approximately 75% of the total evaluation. The combined scores determined the top nonprofits and the final ranking. Kessler Foundation ranked number 14 out of 22 in the medium category (50-249 employees) and number 38 overall. Best Companies Group managed the overall registration and survey process, analyzed the data, and determined the ranking. For more information on the 50 top nonprofits of 2023, visit The NonProfit Times.
About Kessler Foundation
Kessler Foundation, a major nonprofit organization in the field of disability, is a global leader in rehabilitation research. Our scientists seek to improve cognition, mobility, and long-term outcomes, including employment, for adults and children with neurological and developmental disabilities of the brain and spinal cord including traumatic brain injury, spinal cord injury, stroke, multiple sclerosis, and autism. Kessler Foundation also leads the nation in funding innovative programs that expand opportunities for employment for people with disabilities.