Your Support Heals and Inspires This Mother's Day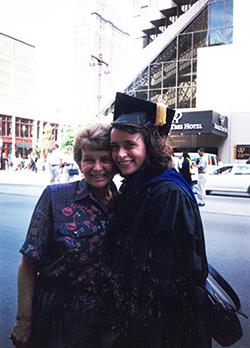 In celebration of Mother's Day, we share how Kessler Foundation researcher Nancy Chiaravalloti, PhD, Director of the Center for Neuropsychology and Neuroscience Research and Center for Traumatic Brain Injury Research, is finding ways to delay cognitive decline in older adults, like her mom, who are living with memory loss.
Dr. Chiaravalloti and her team developed a noninvasive treatment, the Modified Story Memory Technique (mSMT), to improve memory in people living with multiple sclerosis or traumatic brain injury. Research shows that the treatment improves new learning and memory for six months. They continue to explore how long these improvements in memory last after treatment—one year, two years, maybe more.
Now, she is expanding this memory research to include the aging population. In these studies, Dr. Chiaravalloti and her team apply the mSMT treatment and then compare memory and new learning abilities in healthy older adults to those of older adults living with mild cognitive impairment. Their goal is to stave off cognitive decline for as long as possible.
Listen to Dr. Chiaravalloti's podcast to learn more about her research.