Today's the Day – Time to Stroll 'N Roll!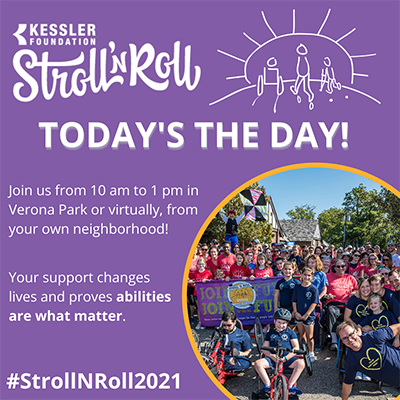 The day has finally arrived: our best—and first—hybrid Stroll 'N Roll!
If you haven't already, you can still register for Stroll 'N Roll today. Join us in Verona Park and make a gift of $25 or more to receive a Stroll 'N Roll t-shirt!
Here are the details about today's family-fun event:
Date and time: Sunday, September 26, from 10 am to 1 pm
Location: Verona Park in Verona, NJ or in your own neighborhood with your friends and family!
We've got a fun-filled day lined up with food trucks, music, magic, games, crafts, and a stroll or roll around Verona Park, or participate virtually.
Be sure to join our Stroll 'N Roll event page on Facebook or follow us @KesslerFdn on Instagram and Twitter. We will be posting on our social media channels throughout the day and we encourage you to post your photos and videos participating in the event using the hashtag #StrollNRoll2021.
The support from friends like you advances innovative rehabilitation research and employment initiatives that change lives for people with disabilities. For that, we thank you!