How Much Did Stroll 'N Roll Raise?
Many thanks for a successful and special day at this year's Stroll 'N Roll fundraising event. More than 600 people of all ages and abilities gathered on Sunday, September 22, in Verona Park in New Jersey for Kessler Foundation's 18th Annual Stroll 'N Roll, presented by ShopRite and Gibbons, to prove abilities are what matter.
Together we raised over $200,000 to advance rehabilitation research and employment initiatives that return people with disabilities to their homes, their communities, and the workplace. The generosity of champions like you made this happen.
Inspiring leaders created teams of champions to give back, prove abilities are what matter, and raise funds to advance rehabilitation research and employment for people with disabilities. A special thank you goes to the team with the highest fundraising total, Team Dubas - James Caldwell High School, and the team with the most members, Team Sam. Thank you so much, Sam Good (pictured left, with her family) and Bob Dubas (pictured right, with his wife)!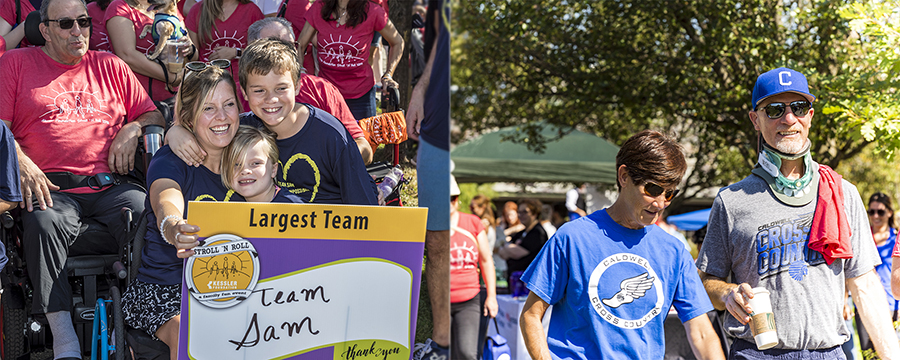 We are thankful to have an amazing Stroll 'N Roll committee. Our committee chair, Alyce Halchak and her company, Gibbons, have been true champions of Kessler Foundation's mission for nearly two decades. Janice Beauchamp and her company, Pfizer, also shared their support for rehabilitation research and employment initiatives for people with disabilities by generously sponsoring Stroll 'N Roll and being being an exhibitor at the park that day.
Also on the Stroll 'N Roll committee are a few of our incredible research participants. They have become champions for other people living with disabilities. Read their stories:
After sustaining a stroke while competing in a triathlon, Mike (pictured, right, walking in the exoskeleton with Kessler Foundation researcher, Dr. Karen Nolan, left) joined two Kessler Foundation research studies.

In one study he walked in Indego, a robotic, battery-powered exoskeleton.

 He rebuilt his strength, improved his balance, and regained his independence. Mike later joined Kessler Foundation's board of trustees to help others in need.
Rosalie Hannigan, a long-time Kessler Foundation friend, lives with a spinal cord injury and proves that abilities are what matter. 

After her injury, Rosalie was treated at Kessler Institute for Rehabilitation and participates to this day in Kessler Foundation research to build on her recovery. 

Now, Rosalie wants to help others. In addition to serving on the Stroll 'N Roll Committee, she fundraises for Kessler Foundation and shares her experience to help others with spinal cord injury. 
Still want to support Stroll 'N Roll? It's not too late to make a gift. Your support has a direct and profound impact. Please contact us if you weren't able to join us at Stroll 'N Roll, and you gave or raised $25 or more, so you can schedule a time to pick up your shirt from our office in East Hanover, NJ.
For more photos of our special day, check out our Facebook page. We'd love to see your photos too! Please post them with #StrollNRoll2019, and tag us on Facebook (@Kessler Foundation) and Instagram (@KesslerFdn).
 
Join us next year in Verona Park on Sunday, September 27, from 10 AM to 1 PM!