Have You Formed Your Stroll 'N Roll Team?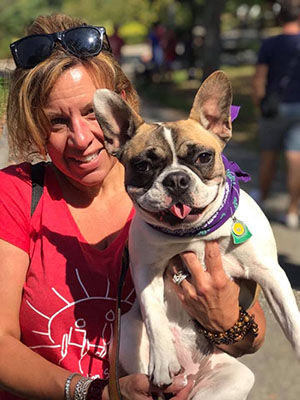 It's not too late to be champion for people with disabilities by forming a team with your friends and family and joining us at our best—and first—hybrid Stroll 'N Roll on Sunday, September 26 from 10 am to 1 pm in Verona Park, and virtually, from your own neighborhoods.
Cherie Giraud, pictured on the right with her dog, Lucy, is a member of our Stroll 'N Roll committee and led the way at last year's virtual Stroll 'N Roll by becoming one of our top fundraisers and forming a team in memory of her husband, John, and stepson, Matt, who enjoyed attending our event year after year.
Register and form your team today and join Cherie and Lucy in raising funds to advance rehabilitation research and employment initiatives that help people with disabilities live to the fullest.
Be one of our top two fundraising teams or the team with the most posts about Stroll 'N Roll on social media using the hashtag #StrollNRoll2021 for a chance to win prizes courtesy of our sponsors and participating food trucks! Winners will also receive a table, tent, and on-site recognition in Verona Park the day of the event. 
If you haven't already, join our Stroll 'N Roll event page on Facebook. Whether you're joining us in person or virtually, this is a great way for you and your friends and family to stay connected with us and to post your photos and videos from the event.
We look forward to strolling and rolling with you in person and in spirit on September 26!