October is National Disability Employment Awareness Month. In celebration, I share a story to demonstrate how your support helps people with disabilities, like Eliza Cooper, live fuller, more engaged lives through employment.
Eliza Cooper earned a master's degree in social-organizational psychology from Columbia University in 2016. Highly motivated and an award-winning triathlete, she was an employer's dream, but had trouble finding a job. The problem? Eliza is blind.
Access to a competitive job is an essential component to living independently. But for people with disabilities like Eliza, employment opportunities can be scarce. While the last few years have shown steady gains in employment, people with disabilities have a long way to go before they reach the employment levels of their able-bodied counterparts.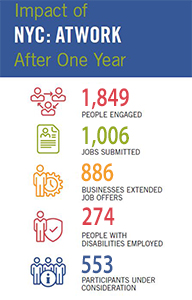 "There's no question that I faced bias in the hiring process because of my disability," Eliza says. "Some interviewers even admitted they had a long way to go in hiring qualified people with disabilities." National Disability Employment Awareness Month reminds us to focus on the contributions of people with disabilities to America's workplaces, and assess efforts to increase inclusion.
With your support, Kessler Foundation helps people with disabilities find employment and creates awareness among potential employers of this talented, untapped labor market by funding innovative, scalable programs locally and nationally.
NYC: ATWORK is one such program. This workforce initiative is New York City's first public-private partnership connecting people with disabilities to meaningful, living-wage jobs across the five city boroughs. NYC: ATWORK provides access to training and internship opportunities, and support and guidance throughout the job search.
Through NYC: ATWORK, Eliza connected to a network of employers who recognized her value. She chose a position at a government agency evaluating the effectiveness of civil service exams for hiring and promoting—a job well aligned with her education and skills. Eliza recalls, "NYC: ATWORK never made me feel that I had to lower my expectations."
Because of your support, people with disabilities like Eliza receive the help they need to find meaningful work and gain independence. Learn more about Kessler Foundation's grant programs.