Join Heather Varricchio in her Race to Change Lives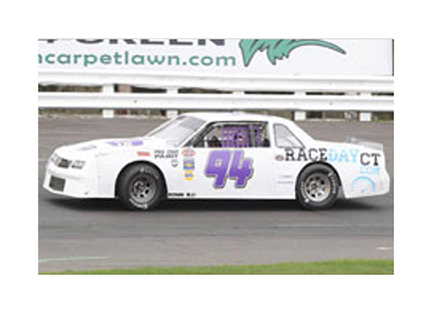 Stafford Motor Speedway will host the 3rd Annual Ladies Challenge for Charities on September 28, 2019. On this day, I will drive the #94 car—in my first-ever car race—to fundraise for Kessler Foundation in memory of my brother, Lucien "Joe" Dube.
During his short 35-year life, Joe met many challenges—hydrocephalus, a brain cyst, and a stroke that left him paralyzed on his right side. He underwent more than 50 surgeries. Despite all this, Joe was undaunted. Focused on his abilities, he attended college and became a mechanic. Kessler Foundation's guiding principle is that abilities—not disabilities—are what matter. Joe exemplified this belief.
With the support of donors like you and me, Kessler Foundation changes the lives of people with disabilities. The Foundation conducts groundbreaking rehabilitation and disability employment research and funds innovative programs to provide access to job opportunities. The impact is profound. People with paralysis stand and walk for the first time. Stroke survivors drive again. People with multiple sclerosis and traumatic brain injury improve their ability to learn and remember. Jobseekers with disabilities find satisfying employment and become self-sufficient.
Every dollar you give to Kessler Foundation will propel new research discoveries and fund innovative employment initiatives. As a result, adults and children with disabilities receive more effective rehabilitation and access to employment opportunities never before possible. Your support matters. You can help people with disabilities of all ages who are in need now live to the fullest. Please join me by making a gift today—as much as you can and any amount helps—in memory of Joe and in support of my race.
Here's how:
Make a donation right now below.

Mail your check payable to Kessler Foundation, 120 Eagle Rock Avenue, Suite 100, East Hanover, NJ 07936. Please include a note stating that your gift supports Heather Varricchio, in memory of Lucian "Joe" Dube.

If you can travel to northern New Jersey, you can help find new, more effective rehabilitation treatments that can lead to better quality care for people like Joe by 

joining a clinical trial

. Those affected by neurological or physical disabilities, and those without any conditions, can participate in Kessler Foundation research.
With gratitude,
Heather Varricchio