Dear Friend,
Donors like you help people with disabilities reimagine what's possible and gain independence. Preston's story is just one example.
Preston, an intelligent 22 year old with a certification in office administration, couldn't get a job. Because he has Asperger's syndrome and struggles to engage in conversation, interviews are challenging. Potential employers couldn't overlook his introverted personality to see his many abilities. But an innovative program, funded by Kessler Foundation and donors like you, changed his life.
The initiative, Putting Faith to Work, builds the capacity of congregations and faith communities to connect their members with disabilities to employment opportunities and provide individualized support. Currently implemented in 27 congregations in four states—Tennessee, Kentucky, Texas, and Minnesota—project leaders are developing a manual on how faith communities across the nation can replicate the project to have a greater impact in the years to come.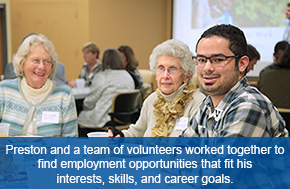 "We all have a right to work, contribute, and flourish," declared Courtney Evans Taylor, site coordinator of the Tennessee location. "Work gives people more than a paycheck. It paves the way to independence. Employment also provides opportunities to make a contribution, utilize skills and strengths in ways that enhance self-worth and purpose, form relationships, and widen social circles."
In Putting Faith to Work, jobseekers with disabilities meet with project leaders and a team of volunteers to discuss interests, skills, and goals. Then the networking begins: team members reach out to their contacts to match the candidate with the ideal job.
For Preston, the team helped him develop his interview skills and quickly discovered the perfect opportunity to showcase his abilities—an administrative assistant position at the Vanderbilt Kennedy Center's Treatment and Research Institute for Autism Spectrum Disorders. Preston nailed the interview and was quickly hired.
The once shy young man now loves going to work every day. He is always ready to lend his coworkers a helping hand and enjoys interacting with others. But most importantly, Preston feels that his job provides a unique opportunity to give back.
"It is very rewarding to work for an organization that helps people like me with autism," said Preston. "Families are receiving much needed information, and I know my work makes their lives better."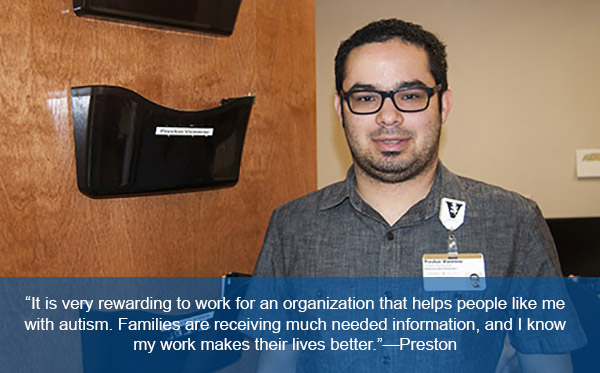 Putting Faith to Work does more than find employment opportunities; it fulfills deep needs for support, inclusion, and healing. "Members with disabilities are being introduced to their congregation in ways that focus on their strengths instead of their deficits," explained Courtney. "They are becoming better known in their own communities, and families have a support system that they can count on. 
Donors like you make this possible. Preston and many more jobseekers with disabilities have found purpose and look forward to even greater successes.
Thank you for being a change in the lives of people with disabilities. 
With gratitude,


Michele Pignatello
Chief Development Officer