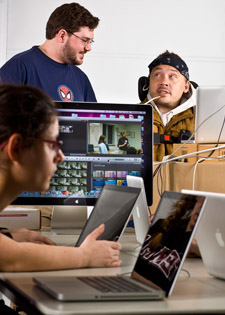 Kessler Foundation awards Signature Employment Grants yearly to support  non-traditional solutions  that increase employment outcomes for individuals with disabilities. 
Our success is in stimulating ideas from the field that spark new models that are adaptable to replication and scalability, and may be models for policy change. Kessler Foundation's flexible funding dollars encourage organizations to pursue promising approaches and concepts beyond what they might have done without our support.
What We Fund  Signature Employment Grants are awarded nationally to fund new pilot initiatives, demonstration projects or social ventures that lead to the generation of new ideas to solve the high unemployment and underemployment of individuals with disabilities. Preference is given for interventions that overcome specific employment barriers related to long-term dependence on public assistance or advance competitive employment in a cost-effective manner. Signature grants are not intended to fund project expansions or bring proven projects to new communities, unless there is a significant scale, scope or replicable component. Innovation lies at the core of all signature employment grants. We define innovation as a process that brings together various novel ideas in a way that has an impact on increasing employment for people with disabilities. Innovation involves deliberate application of information, imagination and initiation for generating new ideas that can serve as a catalyst for better solutions to obtain and maintain employment. These ideas may be original or may use existing solutions or technologies in a new way. Please note: Kessler Foundation does not fund any purely research-based projects.
What We Value We are looking for organizations that use bold ideas and innovation for pilots and new employment models with potential for adaptation by public and private institutions to change today's job market for Americans with disabilities. Collaborating, braiding or leveraging grant funding with other public and private monies, especially sources not typically funding disability, e.g. community or economic development funds, is encouraged. Organizations must be able to transform concepts or ideas into action, using new solutions for current problems, in the communities served. All funded projects will be data driven, evidenced based projects, with real-time feedback to refine systems and processes.
Our Population Interests  Any organization with a focus on employment and disability may apply for funding. We strongly believe that through investing and promoting employment models that are inclusive, all individuals with disabilities gain economic stability and security.
Who Can Apply Organizations recognized as a tax-exempt entity according to the Internal Revenue Code may apply for funding. This includes non-profit agencies, public or private schools, and public institutions, such as universities and government (state, local, federal) based in the United States or any of its territories. Kessler Foundation will not fund projects that discriminate in hiring staff or providing services on basis of race, gender, religion, marital status, sexual orientation, age, or national origin. Organizations employing a large number of staff members self-identifying as having a disability will be scored higher. A proven track record managing and participating in collaborative grant projects is also desirable. Please select 'Apply Now' to sign-up to view eligibility quiz. Upon passing quiz, you are directed to the application instructions requirement page with access to the budget templates. Apply Now!
Matching Funds Requirement In an effort ot help our grantee partners increase their funding base and replicate their project models, Kessler Foundation requires that prospective grantees partially match the value of our grant.  A 15 percent match of the total request amount is required, with this additional percentage added to the total project budget.  Funds must be newly acquired and available for the grant project. Federal or state funds reimbursable for job placement are not eligible as a match source (see application instructions for details).
Our Process The Signature Employment Grant program begins with online concept submission. The concept is scored and reviewed for originality, creativity, feasibility and collaborative stakeholder team. A carefully selected group of candidates is invited to submit full grant proposals, which are reviewed and scored. Final grant candidates are selected from the full proposal candidate pool. All potential grant candidates will meet with Kessler's grant committee by video conference in the fall of 2016. All grants recommended for funding are subsequently approved by our Board of Trustees and are awarded in December 2016 for the grant period January 1, 2017 – December 31, 2018. Final grant selection is at the discretion of Kessler Foundation.
Grant Amount Organizations may apply for up to two years of funding. Yearly funding ranges from $100,000 - $250,000, with maximum project funding at $500,000. Applicant organizations must have operating budgets greater than $3,000,000. This is a requirement to ensure that grantee is not solely dependent on Kessler Foundation funds as a significant portion of operating budget.  Indirect costs are funded up to 15 percent.
Key Dates 
| | |
| --- | --- |
| Grant Concept Deadline: | March 18, 2016 at 5:00 p.m. EDT |
| Grant Concept Acceptance Notification:    | May 13, 2016 |
| Invited Full Proposal Deadline: | July 1, 2016 at 5:00 p.m. EDT |
| Grant Approval: | December 9, 2016 |
For More Information  Please select 'Apply Now' to sign-up to view eligibility quiz. Upon passing quiz, you are directed to the application instructions requirement page with access to the budget templates.
Funded Grant Projects  Grant listing by year
For more information Contact us at KFgrantprogram@KesslerFoundation.org