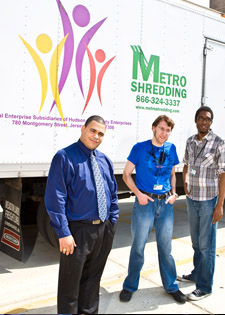 Finding Solutions by Supporting Employment Initiatives Kessler Foundation Program Center is a division of Kessler Foundation dedicated to finding employment solutions and creating awareness to the high unemployment and underemployment of Americans with disabilities. It is under the direction of Elaine E. Katz, MS, CCC-SLP, senior vice president of Grants and Communications.
Since 2005, Kessler Foundation through its signature, community employment and special initiative grants has invested more than $30 million in job training, employment and community programs for individuals with disabilities. In 2015 alone, the Foundation awarded $2.5 million in grants.  Our goal through these program is to raise awareness that people with disabilities are often an untapped resource for employment opportunities and have the ability to help grow a company's bottom line.
Bridging the Gap Through Disability Employment Research In 2012, John O'Neill, PhD, became director of Employment and Disability Research-an inaugural position-in an effort to bridge the gap between rehabilitation research and employment. With more than 30 years of experience in vocational rehabilitation, he is a noted expert on the effects of culture, race, gender and socioeconomic status on social outcomes after disability. Dr. O'Neill also studies how physical and cognitive function, government assistance benefits, and healthcare coveratge impact utilization of vocational services and job seeking by people with disabilities. His reserach is funded by government agencies, including the National Institute on Disability Rehabilitation Research.
With the addition of Dr. O'Neill, program center research is expanding into the area of employment outcomes for individuals with cognitive and physical disabilities, finding ways for individuals with disabilities to enter or rejoin the workforce so they can enjoy greater independence, self-sufficiency, and quality of life.