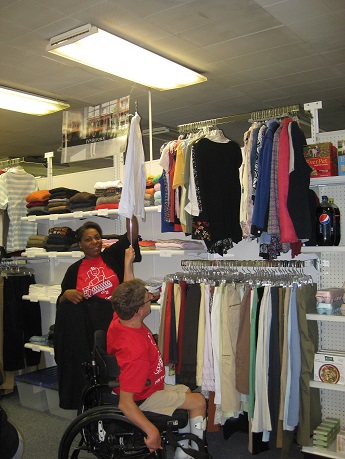 Community Employment Grants
Kessler Foundation awards Community Employment Grants annually to support employment solutions that increase employment and career outcomes for New Jersey citizens with disabilities.
Economic Disparity in New Jersey All New Jersey citizens share the same goals, whether it's a dream job, home ownership, going to college or starting a business.
However, when compared to New Jersey residents without disabilities those with disabilities are more likely to be unemployed, work fewer hours, earn less and live in poverty (American Community Survey, 2014). More specifically, the employment gap between people with and without disabilities is 37.3 percent and only 21.2 percent of those with disabilities work full time versus 1.86 percent of people without disabilities. There is also a yearly earnings gap between people with and without disabilities of $13,772 and a 12.3 percent greater incidence of poverty with disabilities.
Rates of unemployment and under-employment are unacceptably high among people with disabilities in New Jersey. By working full or part-time, often with training and support, many people can find meaningful employment and reap the benefits of greater independence, financial security and self-esteem. Having a job enhances social interactions and acceptance in the community, which contribute to a better quality of life.
Through employment, individuals with disabilities have a sustainable pathway to a better economic future.
 New for 2017
Kessler Foundation is offering two different grant programs this year to meet the needs of the New Jersey organizations focusing on employment for individuals with disabilities. These opportunities are offered in an effort to strengthen local impact and our commitment to create and increase job opportunities for people with disabilities striving toward meaningful employment. Each program has specific guidelines and deadlines. We suggest reading through all of them, to see which grant request is the best fit for your organization. Applications will only be accepted from New Jersey-based organizations, or organizations that serve New Jersey citizens with disabilities. An organization may only apply for one grant program.
Traditional Community Employment Grants (tCEG) - Application Deadline April 3, 2017
Transitioning-To-Work Grants (TTWG) - Application Deadline May 3, 2017
Community Employment Grants do not support:
Grants to individuals
Grants to underwrite fundraising events, such as benefits, dinners or theater events, ticket purchases, advertising, etc.
Scholarship funds
Deficit reduction or loans
International organizations or causes
For more information Contact us at KFgrantprogram@KesslerFoundation.org