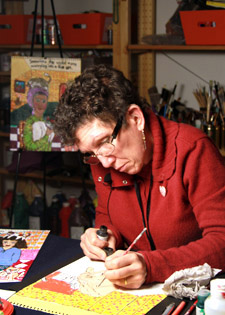 Kessler Foundation awards Community Employment Grants yearly to support non-traditional solutions that increase employment and career outcomes for New Jersey citizens with disabilities.
Beginning in 2015, Kessler Foundation is changing its Community Employment Grant Program in New Jersey in an effort to strengthen local impact and our commitment to create and increase job opportunities for people with disabilities striving towards meaningful employment.
Organizations are now eligible for grants up to a maximum of $100,000, awarded over two years. Funded projects with high impact and successful outcomes may become eligible for additional Signature Employment Grant program funding to expand and scale the pilot following the initial grant period. Kessler Foundation will no longer be providing traditional program or operating support for ongoing employment programs.
Focusing on larger grants-over a longer period, enables a community of collaborators to transform concepts or ideas into action by utilizing new solutions that address the high unemployment rates for people with disabilities in New Jersey.
Economic Disparity in New Jersey All New Jersey citizens share the same goals, whether it's a dream job, home ownership, going to college or starting a business.
However, when compared to New Jersey residents without disabilities those with disabilities are more likely to be unemployed, work fewer hours, earn less and live in poverty (American Community Survey, 2010). More specifically, the employment gap between people with and without disabilities is 37.5 percent and only 24 percent of those with disabilities work full time versus 56 percent of people without disabilities. There is also a yearly earnings gap between people with and without disabilities of $23,430 and a 14.5 percent greater incidence of poverty  with disabilities.
Rates of unemployment and under-employment are unacceptably high among people with disabilities in New Jersey. By working full or part-time, often with training and support, many people can find meaningful employment and reap the benefits of greater independence, financial security and self-esteem. Having a job enhances social interactions and acceptance in the community, which contribute to a better quality of life.
Through employment, individuals with disabilities have a sustainable pathway to a better economic future.
What We Fund Community Employment Grants are awarded to New Jersey-based organizations to fund new pilot initiatives, demonstration projects or social ventures. These solutions improve the employment landscape and lead to full-time or part-time employment, which provides independence and economic self-sufficiency, important factors toward living a purposeful life. We encourage disability organizations working in employment to forge new collaborative relationships with economic development, corporate and private groups working to build inclusive, sustainable and viable communities.  All grant funded organizations will be required to work in partnership with the New Jersey public workforce system.
Our Population Interests In recognition of the 25th Anniversary of the Americans with Disabilities Act in 2015, Kessler Foundation is encouraging any organization that focus on employment and disability to apply for funding. We strongly believe that through investing and promoting employment models that are inclusive, all individuals with disabilities gain economic stability and security.
Who Can Apply Nonprofit organizations that serve New Jersey residents and are tax-exempt according to the Internal Revenue Code may apply for a Community Employment Grant. This includes nonprofit organizations, public/private schools and public institutions. We will accept applications from non-NJ based groups as long as the proposed grant projects are based in NJ and serve NJ residents. Kessler Foundation will not fund projects that discriminate in hiring staff or providing services on the basis of race, gender, religion, marital status, sexual orientation, age, or national origin. Organizations employing a large number of staff members self-identifying as having a disability will be scored higher.  
Our Process Application to the Community Employment Grant program begins with an online application submission. Grant applications are screened and reviewed by Kessler Foundation staff and grants committee. All grants recommended for funding are subsequently approved by our Board of Trustees and are awarded in September 2016 for the grant period October 1, 2016 – September 30, 2018. Final grant selection is at the discretion of Kessler Foundation.  The application process, from submission deadline to final approval, takes approximately seven months.  
Amount Organizations may apply for up to two years of funding. Yearly funding ranges from $25,000 - $50,000 with a maximum project funding at $100,000.  Ten percent of the total request amount in supplemental new funds must be available for the grant project and added to the overall project budget. Funds must be newly acquired and available for the grant project. Federal or state funds reimbursable for job placement are not eligible as a match source (see application instructions for details). Applicant organizations must have operating budgets greater than $1,500,000. Indirect costs are funded up to 8 percent.
Geographic Focus For this program, our primary target service area is New Jersey. 
Key Dates
| | |
| --- | --- |
| Grant Application Deadline: | April 4, 2016 at 5:00 p.m. EDT |
| Grant Approval: | September 16, 2016 |
Funded Grant Projects Grant listing by year
For more information Contact us at KFgrantprogram@KesslerFoundation.org