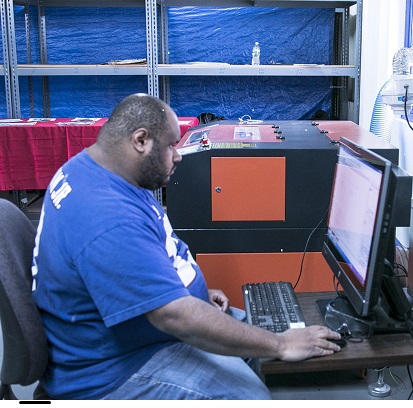 Community Employment Transitioning-To-Work Grants (TTWG)- New for  2017
Kessler Foundation's Transitioning-To-Work Grants (TTWG)  support New Jersey based organizations that are transitioning individuals with disabilities from center-based workshop activities to competitive, integrated employment.
Important federal policy changes and legal actions reinforce the importance of having a job in society and the multiple benefits gained by individuals and businesses when adults with disabilities are employed. In 2010, New Jersey became the 14th state to join the Employment First policy, recognizing the value of competitive, integrated employment as a preferred service option and optimal outcome for working age adults with disabilities. Being employed improves a person's quality of life, in part by causing them to be perceived in a more positive light. Individuals with disabilities working in the community have increased self-confidence and a sense of pride. Working also allows them to contribute as tax-paying citizens. In addition, businesses benefit by having a diverse workforce that meets specific employment needs and reflects the communities they serve.
People with disabilities are a multi-skilled workforce resource for employers. An inclusive workplace promotes diversity, expands the tax base and creates an expanded pool of qualified candidates for available jobs. Employment First is about creating an environment for individuals with disabilities that empowers them with choices for their future, reduces poverty, shrinks enrollment in entitlement programs, eases demand on state and community based social service agencies and provides workers with a sense of achievement.
This is a special RFP in partnership with the New Jersey Division of Vocational Rehabilitation Services.
Grant Guidelines and Application Deadline Available Soon