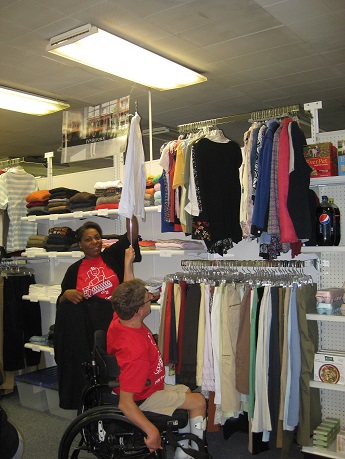 Finding Solutions by Supporting Competitive and Integrated Employment Initiatives
Kessler Foundation Program Center is dedicated to finding employment solutions and creating awareness of the high unemployment and underemployment of Americans with disabilities. People with disabilitilies are a multi-skilled workforce resource for employers. An inclusive workplace promotes diversity, expands the tax base, and creates an expanded pool of qualified candidates for available jobs. It is under the direction of Elaine E. Katz, MS, CCC-SLP, senior vice president of Grants and Communications.
Important federal policy changes and legal actions reinforce the importance of having a job in society and the multiple benefits gained by individuals and businesses when adults with disabilities are employed. In 2010, New Jersey became the 14th state to join the Employment First policy, recognizing the value of competitive, integrated employment as a preferred service option and optimal outcome for working age adults with disabilities. Being employed improves a person's quality of live, in part by causing them to be perceived in a more positive light. Individuals wtih disabilities working in the community have increased self-confidence and a sense of pride. Working also allows them to contribute as tax-paying citizens. In addition, busineses benefit by having a diverse workforce that meets speciic employment needs and reflects the communities they serve.
People with disabilities are a multi-skilled workforce resource for employers. An inclusive workplace promotes diversity, expands the tax base and creates an expanded pool of qualified candidates for available jobs. Employment First empowers individuals with choices. Working reduces poverty, shrinks enrollment in entitlement programs, eases demand on state and community-based social service agencies and provides workers with a sense of achievement.
Since 2005, Kessler Foundation has invested more than $41.5 million in job training, employment and community programs for individuals with disabilities through its Signature, Community Employment and Special Initiative Grants. The Foundation's grants have connected more than 10,000 individuals with disabilities with competitive employment. In 2018, the Foundation awarded $2.5 million in grants. Our goal through these programs is to raise awareness that people with disabilities are often an untapped resource for employment opportunities and have the ability to help grow a company's bottom line.
In this video, Elaine Katz, Senior VP of Grants and Communications at Kessler Foundation, speaks with PBS host, Steve Adubato, about the millions of dollars in grants Kessler Foundation has given to veteran organizations offering the critical "wrap-around" services veterans need most, such as assistance with housing and employment.
Bridging the Gap Through Disability Employment Research 
Bringing with him more than 35 years of experience in vocational rehabilitation, John O'Neill, PhD, became director of Employment and Disability Research in 2012. He is deeply involved in research to understand how the following factors affect the employment outcomes of people with disabilities: health conditions, individual characteristics (e.g. race, gender, age), human capital, work experience, education, social capital (e.g. membership in community organizations, nature and quality of family and non-family relationships), and environmental factors. Such research will ultimately allow vocational rehabilitation services to be more effectively tailored to the needs of individuals. Dr. O'Neill is also involved in the implementation and evaluation of two program demonstrations to improve the outcomes of individuals with spinal cord injuries. One will improve the utilization of assistive technology at the workplace, and the other provides early vocational resource facilitation services to medical rehabilitation inpatients with intensive follow-up services post-discharge. Government agencies and foundations, including the National Institute on Disability, Independent Living and Rehabilitation Research (NIDILRR) and the Craig H. Neilsen Foundation, fund his research.