Dear Friend,
This past Memorial Day, your support helped Miguel and Hannah, and dozens of others, prove that abilities are what matter. On that day, racers from all over the world competed in the 16th Annual Kessler Foundation Wheelchair 10K. The Wheelchair 10K is a division of the Fred D'Elia Ridgewood Run. It is one of the largest integrated 10K races in the country where racers and runners compete on the same course at the same time.
"For 16 years, the Kessler Foundation Wheelchair 10K has led the charge for the inclusion of athletes with disabilities in mainstream sports," said Angela Smith, race director and Kessler Foundation employee. "Our racers are accomplished athletes and true competitors in every sense of the word. We are grateful to our generous donors for supporting this race and enabling these amazing racers to showcase their abilities."

With winners in seven categories (click here for full results), Miguel and Hannah are two examples of the determined and unstoppable athletes who competed in the race.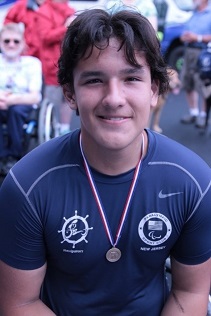 At just 16 years of age, Miguel Jimenez-Vegara has proven his athleticism as well as his commitment to improving the lives of others. Born without legs, Miguel has been participating in wheelchair sports since he was 6 years old. Now, at the Kessler Foundation Wheelchair 10K, he clinched the Male Junior Division and set a new course record.
"Participating in sports keeps me in shape, improves my focus in school, and builds my confidence to engage in community activities," Miguel explained. "I apply the lessons I learn as an athlete throughout my life. Sports are very powerful and I want to help others have that experience."
After high school, Miguel plans to attend college and give back to others by coaching his own team. "I hope to leave my legacy by training the next generation of great athletes and Paralympians." Miguel declared. "That would be an honor."

Imagine suddenly being unable to walk. Hannah Babalola lived this frightening moment when she was just seven years old. Years later, she found her passion for wheelchair sports. Now, Hannah is the fastest female wheelchair racer in all of Africa and travels the world to compete. Her latest stop: the Kessler Foundation Wheelchair 10K, where she won the Open Female division.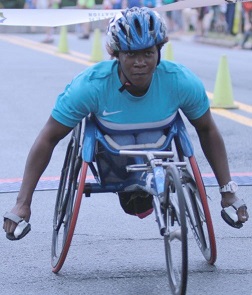 "I have met so many wonderful people from all different backgrounds; they have taught me so much about maintaining my values while working hard work to achieve my dreams," Hannah explained.
Hannah is about to realize one of her dreams this summer. She will compete in the Paralympics in Rio. After the games, Hannah will attend college to study physical education. "I want to coach and motivate others, especially those living with disabilities. It is important to get our lives back, find a passion, and set our goals. We deserve to be happy and enjoy life to the fullest."
The generosity of donors like you has given Miguel and Hannah the opportunity to prove that abilities are what matter. Even better, they will "pay it forward" by helping others.
Thank you for being a change in the lives of people with disabilities.

Michele Pignatello
Chief Development Officer