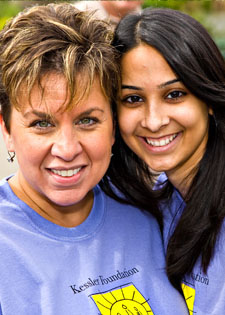 Kessler Foundation is a public charity dedicated to improving quality of life for individuals with disabilities.
Kessler Foundation bears the name of Dr. Henry H. Kessler, an orthopedist who founded Kessler Institute for Rehabilitation in 1947 to provide comprehensive rehabilitation for people with physical disabilities and help them achieve maximum independence. Today, the rehabilitation research and community employment programs of Kessler Foundation continue Dr. Kessler's legacy.
Kessler Foundation maintains its charitable mission; Kessler Institute for Rehabilitation, the largest and most comprehensive hospital for medical rehabilitation in New Jersey, now operates as a for-profit institution.
Kessler Foundation strives to improve the lives of people with physical and cognitive disabilities caused by stroke, multiple sclerosis, brain and spinal cord injury, and other chronic neurologic and musculoskeletal conditions. Over the past decade, Kessler Foundation has invested almost $50 million in the work of its Research Center, where investigators develop ways to help people with disabilities overcome obstacles to leading full and productive lives in our communities.
Kessler Foundation maintains two locations in West Orange, New Jersey. Kessler Foundation Research Center, which adjoins Kessler Institute for Rehabilitation, houses the support staff, a medical library, and meeting rooms in addition to five of the six specialized laboratories:
◾Human Performance and Engineering Research 
◾Outcomes & Assessments Research
◾Spinal Cord Injury Research 
◾Stroke Rehabilitation Research 
◾Traumatic Brain Injury Research :
◾Neuropsychology and Neuroscience Research is located at the Executive Drive facility, which also houses the Foundation's Grant Programs, Development, Communications, and administrative offices.